I like to use picture books to teach theme--just as I like to use picture books to help students
summarize stories.
Here are some of my favorites. (Yes, I use the same books year after year. We don't have much of a book budget, and I order a few more copies of my favorites every year to build up to a class set. For that reason, I'm drawn to paperbacks.)
Can you just take any book off the shelf and use it for teaching theme? Yes and no. Every story has some kind of theme, but some are harder to find than others. Also, some stories point to only one theme. I prefer to teach with stories that have multiple themes. These stories yield some rich discussions as students try to support their thinking.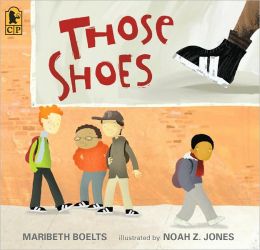 Those Shoes
This is a sweet story of a boy who wants "those shoes", but can't afford them. It resonates with my students and is an example of how a small, slice-of-life story can still carry a theme.
Students like to try to wordsmith different themes for this story, but the concrete plot line makes it easy for them to support a theme that works. This inexpensive paperback is a great choice for a classroom library or teacher bookshelf.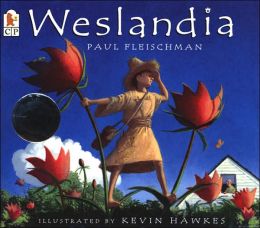 Weslandia
Every time I teach this book I love it a little more! Wesley's journey from tormented victim to intrepid adventurer is a wonder to behold, and Paul Fleischman is just an amazing writer. The kids love the illustrations as well.
Just looking at Wesley's changes in the pictures gives readers a strong insight into the theme of the story. This is another book that resonates with students, and leads to some interesting discussions about the theme. (I also have
a set of resources
for this book over on TpT.)
How I Learned Geography
This book is one that I revisit throughout the year, as we look at maps in our geography unit, as we work on personal narratives, and as we explore theme. It is more of a memoir and is alternately classified as "autobiographical" or a "fictional recasting".
Whatever the line between fiction and reality, this book is great to share. My kids think it is interesting that our home state of Pennsylvania is included in a list of faraway places--they have never considered that their everyday ordinary is someone else's distant exotic. Students often have different ideas about the theme. Some bring up the event of the father buying the map instead of buying food, while others focus on the narrator's use of imagination.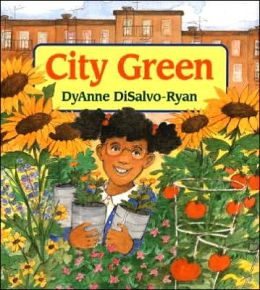 City Green
This is another book which has character change at the heart. It would make a nice companion book to
Weslandia
, as
City Green
also shows plants making a difference to people's lives. Students passionately argue for various themes in this story, depending on whether they focus on the character of Old Many Hammer or Marcy. I love it when they can support their thinking!

Beautiful Oops
Students love this book! It really shows how a mistake can be turned into something positive. This book has a stated theme, which leads us into a discussion of paraphrasing versus quoting. Should we put the theme into our own words? Should we use quotation marks to show that we are stating the words of the author? These questions are just perfect for beginning of year fourth graders.
There are so many other great books that you can use to teach theme. What are your favorites?
Tweet